SILVER BRAZING ALLOYS & FLUX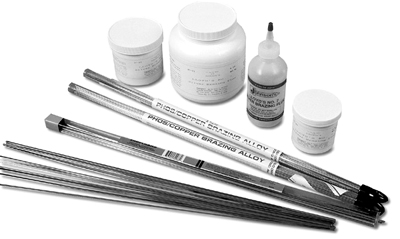 LLOYD'S NO. 7 SILVER BRAZING FLUX
Produces Strong Silver Solder Joints
This smooth white paste is excellent for silver brazing (also called silver soldering) from 800 - 1650°F. Lloyd's No. 7 enables silver solders and phos-copper alloys to flow at their lowest possible temperatures. Works great on brass, copper, iron, steel and stainless steels. Lloyd's No. 7 is usually thinned with water to form a slurry that is easy to apply. Will not crystallize; if allowed to dry out, simply add a little more water and stir in. Residues are water soluble; hot water speeds the flux removal process.

ITEM

SINGLE
PART NO.

CASE
PART NO.

NO. IN
CASE

SHIP
WT.

12 Oz. Squirt
07-05
07-06
12
12#
1/2 Lb. Jar
07-07
07-08
12
8#
1 Lb. Jar
07-09
07-10
12
15#
4 Lb. Jar
07-11
07-12
6
26#
55 Lb. Pail
07-13
58#
---
JOHNSON'S SUPERBRAZE
Contains Silver, Flows like 15%
An amazingly fine Phos-Copper brazing alloy with flow and strength characteristics similar to that of 15% phos-copper. Superbraze melts fast and holds strong to make repair jobs quick, easy and economical. This is the ultimate brazing alloy for copper/brass radiator repair when used with Lloyd's No. 7 Silver Brazing Flux. Not recommended for use on iron based alloys.
| | |
| --- | --- |
| ITEM DESCRIPTION | PART NO. |
| 1 Lb. Superbraze, 0.050" x 1/8" | 910-03 |
---
PHOS-COPPER BRAZING ALLOYS
Contains 5% and 15 % Silver, Respectively
For low temperature brazing of brass and copper. These alloys should not be used on steel. 5% Phos-copper is an economical alloy, recommended where close fit-ups cannot be maintained. 15% Phos-Copper is recommended where ductility is of prime importance. Both alloys work best with Lloyd's No. 7 Silver Brazing Flux.
| | |
| --- | --- |
| ITEM DESCRIPTION | PART NO. |
| 1 Lb. 5% Silver 1/16" dia. | 905-03 |
| 1 Lb. 15% Silver, .050x1/8" | 915-03 |
HOME PAGE | HISTORY | NEW PRODUCTS | FLUXES | SOLDERS | CHEMICALS
TOOLS & SUPPLIES | CATALOG | HEALTHWATCH | MSDS | INDUSTRIES | E-MAIL
Johnson Manufacturing Company, Princeton, IA 52768, Ph 563-289-5123