JOHNSON'S OR-550 ORGANIC SOLDERING PASTE FLUX
and OR-550 LEAD-FREE TINNING COMPOUND
Recently Designed for Auto Makers and Truck Manufacturers,
OR-550 Offers Fast Fluxing Power without Zinc Chloride!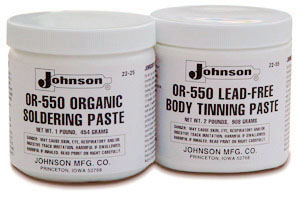 Johnson's OR-550 Soldering Paste and Lead-free Body Tinning Paste are designed to work together with Johnson's No. 523 composite (semi-solid) Lead-free Body Solder. Applied correctly, these products enable the fast tinning and soldering of both plain steel, as well as the electro-galvanized coatings used by the automakers today.

Using OR-550 and No. 523 together, along with the proper technique enables the filling of seams or dents without voids, for final sanding to class-A finish. Also recommended for rebuilding antiques, collectibles and vintage cars, where plastic fillers may not be desirable.

The OR-550 flux that is common to both products provides powerful cleaning and tinning action, works as a paddle lubricant, and then completely washes off, quickly and easily, leaving an uncontaminated surface for sanding. Some technique is required, but definitely worth the trouble!

ITEM

SINGLE
PART NO.

CASE
PART NO.

NO. IN
CASE

SHIP WT.
CASE

Soldering Paste, 1# Jar
22-25
22-26
24
30#
Tinning Paste, 2# Jar
22-55
22-56
8
18#
HOME PAGE | HISTORY | NEW PRODUCTS | FLUXES | SOLDERS | CHEMICALS
TOOLS & SUPPLIES | CATALOG | HEALTHWATCH | MSDS | INDUSTRIES | E-MAIL
Johnson Manufacturing Company, Princeton, IA 52768, Ph 563-289-5123