JOHNSON'S MINI FLUSH GUN FOR HEATER CORES
Offers Just the Right Combination of Air and Water to Flush
Automotive Cooling Systems and Heater Cores!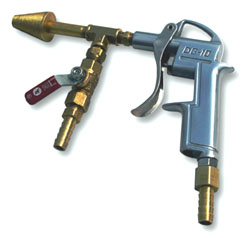 Johnson's ergonomically designed Mini Flush Gun is easy to use in tight spaces, like under the hood for flushing cooling systems and heater cores through a heater hose. Its venturi action provides just the right amount of air and water pressure for flushing heaters, engine blocks, or other light duty cleaning jobs around the shop.

New design is easy to handle for longer periods of time and the valve and trigger offer more precise control.
| | | |
| --- | --- | --- |
| ITEM | PART NO. | SHIP WT. |
| Mini Flush Gun | 429-50 | 2# |
HOME PAGE | HISTORY | NEW PRODUCTS | FLUXES | SOLDERS | CHEMICALS
TOOLS & SUPPLIES | CATALOG | HEALTHWATCH | MSDS | INDUSTRIES | E-MAIL
Johnson Manufacturing Company, Princeton, IA 52768, Ph 563-289-5123