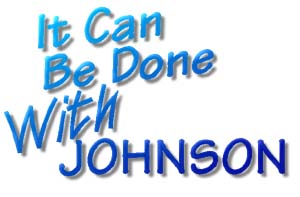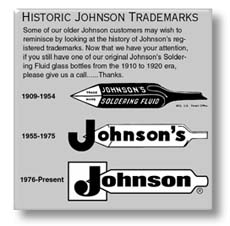 Johnson's story began in St. Louis, Missouri in the late 1800's. The following statement was provided by the late Charles W. Johnson, son of the late founder Charles H. Johnson.
"The original Johnson's Soldering Fluid was developed as the result of the difficulty my father had in soldering laundry equipment that he manufactured and repaired. Galvanized cylinders of the washing machines posed a very difficult soldering problem."
Besides making fluid for his own needs, the elder Johnson began giving it to his friends in the St. Louis area. When he moved to Cedar Rapids, Iowa in the early 1900's his friends still wanted this unique soldering flux. In 1909 he began marketing Johnson's Soldering Fluid and at that time he coined the slogan "It Can Be Done" which has been used in conjunction with the Johnson logo ever since.
Today, Johnson offers one of the most complete lines of commercial and industrial solders, fluxes, tinning compounds and brazing fluxes in the entire world. Our company is increasingly driven by new product development, technology and the SAI, ISO 9001:2015 Quality Management System. We pay strict heed to our founders commitment to provide "quality, consistency and uniformity" with each and every batch.